Back to Events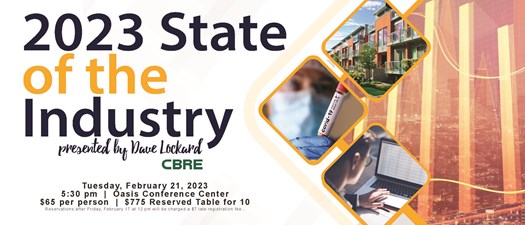 2023 State of the Industry at the February GMM
Tuesday, February 21, 2023
Event Details
Dave Lockard with CBRE presents his Annual State of The Industry Report for 2023 during the Greater Cincinnati Northern Kentucky Apartment Association's February General Membership Meeting scheduled for Tuesday, February 21, 2023, at Oasis Conference Center in Loveland, Ohio. This is by far the most popular meeting of the year answering all your questions regarding trends in the local apartment industry.
Dave Lockard is a team leader of the CBRE OH + Lex Multifamily Group. Dave and his team specialize in the sale of apartment properties in Southern and Central Ohio and Kentucky. Dave has worked in the apartment industry for the past 33 years and is a past president of the Greater Cincinnati Northern Kentucky Apartment Association. He and his combined team have closed more than $5.0 billion in apartment sales. He is an expert on all matters related to Multifamily.
Dave's agenda will include:
Hot Topics in Multifamily and Why They Matter
National, Regional, and Local Economic Overview
Greater Cincinnati Multifamily Market

Rental Market Performance
Investment Market Metrics
Development Trend

Forecasts for 2023 and Beyond
Thank you to all our 2023 Diamond Sponsors for sponsoring this event: Apartments.com, BRG Apartments, Calloway Cleaning and Restoration, Contractors Inc., Fath Properties, HILLS Properties, Pinnacle Paving & Sealing, Rent, Rite Rug, Royal Finish, Sherwin Williams, and Towne Properties.
Thank you also to our Presenting Sponsor PPG Paints.