Independent Rental Owner Professional (IROP)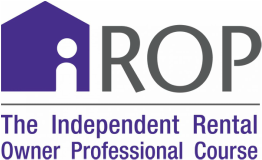 Whether you are a new or experienced independent rental owner, earning your IROP gives you an "insider's view" of professional property ownership and management practices.
​You'll learn about:
Key elements of successful rental unit ownership
Preparing and managing a budget
Planning taxes strategically
Establishing relationships with code department representatives
Protecting and insuring your investment
Increasing your property's energy efficiency to increase market value
Screening, hiring, and traning employees
Scheduling unit inspections for preventive maintenance
Establishing rental rates and marketing to find residents
Qualifying residents and complying with fair housing laws
Considering the important elements of an enforceable lease
Owner liability, rent collection, security deposits, and eviction
Developing turnkey rental unit preparation and resident move-in processes
Showing the rental unit and qualifying and screening prospective residents
Managing resident retention and terminating leases
The Independent Rental Owner Professional (IROP) course is offered as a webinar series through the National Apartment Association.
Important Links
IROP Course Flyer
PURCHASE Online IROP on Visto
​
For more information about the Independent Rental Owner Professional program, contact NAAEI at 703-518-6141 or your state or local affiliate.