Membership Directory
Advertising Information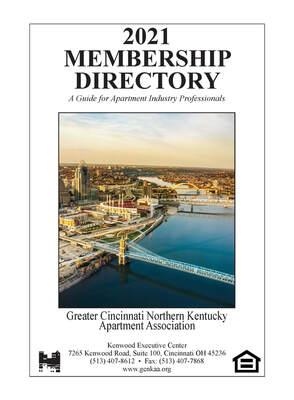 The Greater Cincinnati Northern Kentucky Apartment Association Membership Directory is an exclusive "Members Only" publication produced yearly. The Membership Directory lists all Primary members and Associate members of the GCNKAA and also includes a Community Index, Products & Services section and Main Contact section with names, company and phone number. Each member company receives one Membership Directory; additional copies are $10.00 each.
ADVERTISING INFORMATION
Advertising is available on an annual basis. Reserve your advertising spot in the 2023 Membership Directory today!
​For the 2022 edition, rates are as follows:
| | | |
| --- | --- | --- |
| Back Cover (Full Color) |  $899  |  5 1/2 x 8 |
| Inside Front Cover (Full Color) |  $819 |  5 x 8 |
| Inside Back Cover (Full Color) |  $819 |  5 x 8 |
| Tab Page (Full Color) |  $919 |  4 3/4 x 8 |
| Full Page |  $679 |  4 3/4 x 7 3/4 |
| 1/2 Page |  $529 |  4 ¾ x 3 3/4 |
| 1/4 Page |  $389 |  2 ½ x 3 ¾ – Vertical OR 4 ¾ x 1 ¾ – Horizontal |

The back cover, inside front, and inside back cover are sold on a "first right of refusal" basis. Therefore, if your company had an ad in either of these locations last year, you do have the opportunity to retain that position. If you do not wish to renew your ad, then this space becomes available to our other advertisers.
 
Tab page, full, half and quarter page ads are available. These are not placed on a "guaranteed placement" arrangement.
 
If you have further questions, please call the Apartment Association at (513) 407-8612 or email Patty Braun at patty@gcnkaa.org