Back to Events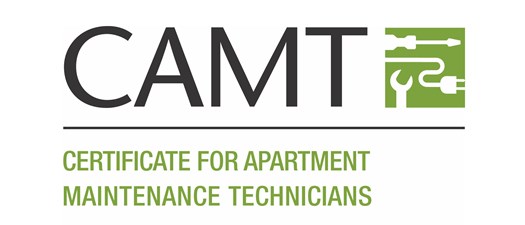 Certificate for Maintenance Technicians (CAMT) - Fall
Donuts & Lunch will be provided each day!
Friday, September 30, 2022
at
8:30 AM (EDT)
to Friday, November 11, 2022 at 5:00 PM (EST)
Event Details
Earning your Certificate for Apartment Maintenance Technicians (CAMT) validates your knowledge, enhances your reputation and credibility, boosts your confidence and earns you respect. You will receive training across all the fields listed on the right to give you a wide range of knowledge & ability.

The CAMT program is accredited by the American National Standards Institute (ANSI), a private non-profit organization that administers and coordinates the U.S. voluntary standardization and conformity assessment system. Classes for this session begin September 30th.
Every attendee will be required to complete the following items below before the first day of class. You can contact the Education Coordinator for assistance at 513-407-8612 or james@gcnkaa.org
Create an account on NAAHQ.org
Enroll in the CAMT credential under The Greater Cincinnati Nothern Kentucky Apartment Association
Step by step picture insturctions on how to enroll can be found at this link: https://www.gcnkaa.org/file/secure/credential-enrollment-instructions.pdf
If you cannot access this link, please contact james@gcnkaa.org
Donuts & Lunch will be provided each day! Deadline to register is September 16th.
Scholarships are avaliable for this session of CAMT, applications due by August 26th. Go to the link below for a fillable PDF or email james@gcnkaa.org
https://www.gcnkaa.org/file/secure/camt-scholarship-application-fall-pdf-fillable.pdf
Electrical Maintenance & Repair
Friday, September 30, 2022 | 8:30 am to 5 pm
Plumbing Maintenance & Repair
Thursday, October 6, 2022 | 8:30 am to 5 pm
Heating Maintenance & Repair
Thursday, October 13, 2022 | 8:30 am to 5 pm
Air Conditioning Maintenance & Repair
Thursday, October 27, 2022 | 8:30 am to 5 pm
Interior / Exterior Maintenance & Repair
Thursday, November 3, 2022 | 8:30 am to 5 pm
Appliance Maintenance & Repair
Friday, November 4, 2022 | 8:30 am to 5 pm
Review & Test Day
Friday, November 11, 2022 | 8:30 am to 5 pm